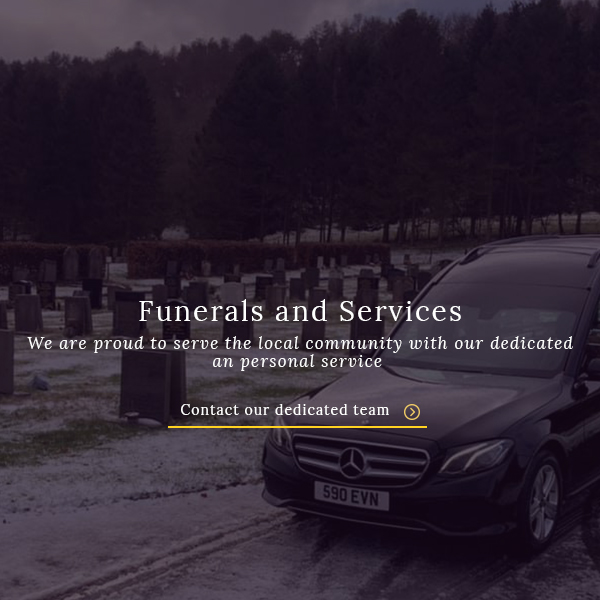 Funerals have been arranged from our premises in Scarborough for over 100 years. We are proud to serve the local community with our dedicated and personal service.
You can contact us to talk about arranging a funeral at any time. We know every funeral is deeply personal and unique and it our privilege to help you honour someone's final wishes.
There are many options available to you and we can be involved as much or as little as you need. We will always be honest and transparent with you, providing you with clear advice and a full quote.
Our services are developed to meet your needs. You can expect the following from us:
· A caring and personal service from a small business who are dedicated to providing the local community with respectful and dignified funerals.
· Complete guidance on every aspect of the funeral arrangements.
· Funeral arrangements made at your home or at our office.
· 24 hour personal service provided by our fully trained staff.
We can be involved as much or as little as you need. Talk to us about your requirement. You may wish to discuss some of the following options with us:
· Completion of all statutory and non-statutory documents required for funerals
· Liaison on your behalf to third parties such as the Cemetery, Churchyard or Crematorium, Clergy, Church, Doctors
· Traditional, multifaith and or non-religious
· Compiling and insertion of newspaper notices
· Viewing the deceased in our Chapel of Rest
· Arranging floral tributes
· Arranging catering for after the service
· The design and supply of service sheets
· Transport using our own fleet of cars
· A horse drawn hearse
· Green Funerals
· Advice and supply of willow, bamboo and cardboard coffins.
· Ashes, caskets and urns
· Grave markers
· Repatriation both to and from the UK
· Arrangements for funerals in any part of the UK
Once we have discussed the funeral plans we will provide an estimate of overall funeral expenses including our charges and any payments that we are required to make on your behalf to third parties (fees paid to the Cemetery, Churchyard or Crematorium, Clergy, Church, Doctors, Newspapers etc.).
Order Of Service Sheets
We can print Orders of Service for any funeral service. It is essential that we have instructions as early as possible in order to prepare a draft for approval, prior to the funeral. The finished copies will be delivered to the church or crematorium by our staff.
The Order of Service can be comforting to friends or relatives who may be unable to attend the funeral.
Donations To Charities
Some families will request to have family flowers only, or no flowers, and have donations to charity instead. Donations may be placed on a plate at the exit of wherever the service is held. After the service, we will return the donations to the next of kin for them to forward onto their chosen charity. 
Please note: cheques sent to us should be made payable to the charity concerned
Distance Funerals
Although we are based in Scarborough, we have experience of providing funeral services throughout England, Scotland and Wales. We ensure that you receive the same level of high quality care and attention wherever you ask us to act for you, locally or further afield.
Repatriation
A death may occur anywhere in the UK or even abroad and when this happens the deceased will need to be transported from the place of death to our premises for the funeral to be held locally.
Alternatively if the death of someone who lives elsewhere in the UK or even abroad occurs locally then transportation to the place where the funeral will take place will be required.
Although we are a locally owned and operated family run Funeral Directors we are not limited to local funerals and can carry out funerals in any part of the UK. We can also repatriate someone either to or from another country anywhere in the world.